Our team of industry professionals have spent most of their careers providing industry leadership in the areas of business and technology. Their knowledge of product management, enterprise architecture, operations, data and integration allow them to provide you with the highest quality of services focused on leveraging technology to improve your business.
Over the past decade, cloudIMPACT has worked with life sciences, healthcare providers, insurers, systems and service companies to integrate data, reduce infrastructure complexity and create environments which are manageable and scalable as they grow and expand their offerings.
Our team has hands-on, real world experience dealing with the complexities that often arise through growth, specifically when environments need to be integrated. We have worked on large data consolidation, translation and transformation projects across disperse systems, but have also been able to maintain uniqueness, where needed, between environments.
Continued consolidation, acquisitions, partnerships, regulatory and compliance changes will drive every organization to rethink their business and supporting technology road maps. cloudIMPACT has the knowledge, experience and expertise to ensure that you are getting the most out of your existing assets as well as those you plan to implement in the future.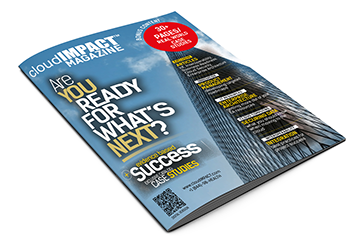 We are excited to offer our first issue of the cloudIMPACT™ Magazine where we packed it with articles and real world case studies highlighting our work and lessons learned.
This digital publication can be accessed by selecting the button below. We intend to develop this publication as a way for us to share our expertise in the areas of cloud computing, enterprise architecture, IoT, product management, and overall business growth based on the successes we have shared in with our clients.
EHR, EMR, Data Driven Strategy


Worked with senior leadership and various hospital systems to develop and implement a complete redesign of how the system handled and processed data. Included managing upgrades to their EHR as well as integrating EMRs across all of their physician sites.
Enterprise Architecture and Pharmacy Management System


Provided a host of enterprise level services and architecture designs to re-engineer a large division of a multi-billion healthcare provider. This multi-year project included implementing EMPI, ESB and enterprise integration for internal and external partners.
Designed Architecture to Support SaaS and Real Time Data Ingestion


Designed an architecture in a SaaS environment where multiple data streams needed to be ingested in real time.
Defined and Created Product Portfolio and Multi-Year Platform Road Map


Did market and competitive research which drove the definition of the application road map and overall enterprise architecture and planning for a large healthcare services organization.
Cyber security requires a deep understanding of how vulnerabilities can be limited as well as how to educate your employees against threats from anywhere in the world including right inside your own organization. These threats vary in complexity and type but all are a huge threat to your business, employees and shareholders.
Over the past decade threat levels have increased and everyone is a target. No longer are just the large organizations the focus of malicious attacks. Small and medium sized businesses are vulnerable because they don't have the expertise or resources to secure their business against even the most simple of threats. Good planning and strategies are needed to stay ahead of threats that can cripple your ability to conduct business. These threats are mainly coming from foreign actors that can easily spoof and mask their location and more often than not are part of larger teams of malicious actors and even state run organizations.
So what can you do to protect your assets...

Engage with cloudIMPACT to design a strategy and action plan to secure data, systems and educate your employees on what is needed to secure the enterprise and prevent the organization from the threat of ransomware and other cyber security threats. Call us toll free to discuss your needs either pre or post experiencing a cyber security attack.
We have decades of experience securing enterprises
cloudIMPACT knowledge transfer to your team
We offer a host of project and product management services which compliment your own internal resources. We utilize the 2 in the Box methodology where team members work alongside your staff to provide not only expertise but the knowledge transfer needed for your staff to manage and maintain the programs they are implementing.
Ask to see our presentation on how we work side by side with your teams to deliver successfully on programs which are mission critical and impact your bottom line without forcing a dependency on outside vendors.
Our success is measured by your success and satisfaction. We have developed an approach for healthcare project management which allows for all resources to collaborate in an efficient and cohesive manner. This keeps your team engaged and on task.
The proof is in the results that cloudIMPACT delivers. Over the past several years our resources have worked with the nation's largest healthcare organizations and service providers to enhance, expand and manage their operations, infrastructure and data. We can do this for you too! Contact us for more information or to discuss your needs.
Product Management: - Assist with defining your market and product strategy as well as resource planning to achieve a road map for success.
Project Management: - Work along with your resources to train and or manage them through projects of all sizes and complexity.
Cost containment and technology consolidation: Identify areas where a company is overspending on their infrastructure (on-premise, cloud, telecom, etc) and architect better ways to leverage existing and potential new partners to streamline costs and complexity that may have been created over the years.