Population Health Management
Clinical Trial Management
cloudIMPACTTM is comprised of a team of expert healthcare and life sciences professionals, each with a proven track record and a minimum of 30 years professional experience. We have designed, developed and implemented some of the most complex and intricate solutions tailored to meet the continually evolving needs of the healthcare and life sciences industries.
Our expertise in the following healthcare areas allows our professionals to assist our clients with a full spectrum of consulting services as they navigate through the ever-changing landscape of healthcare
compliance.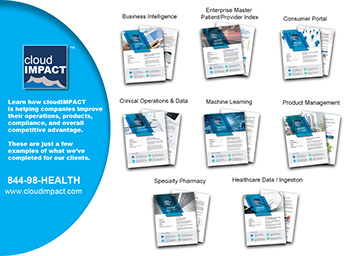 Utilizing an agile approach to project methodology specifically developed for healthcare and life science, allows us to consistently deliver while engaging both the business and technology areas of your organization.
We are strong believers in collaboration and knowledge transfer which allows your teams to become more self efficient and capable of maintaining projects quicker and with more success.
Our process is simple and easy to implement. There typically are no changes needed to how you currently deliver on projects, report on status or communicate to your organization. With our 2 in the Box approach, you and cloudIMPACT resources are working together on a daily basis. You can choose to have our resources manage and deliver the entire project but we strongly recommend that you are engaged as part of the team.
Below is an example of a project workflow:
We understand the challenges of healthcare and life sciences as well as those deigning and developing solutions to improve patient care. We also know that your business has data which can enhance the services you provide to patients and assist you in uncovering areas where you can improve.